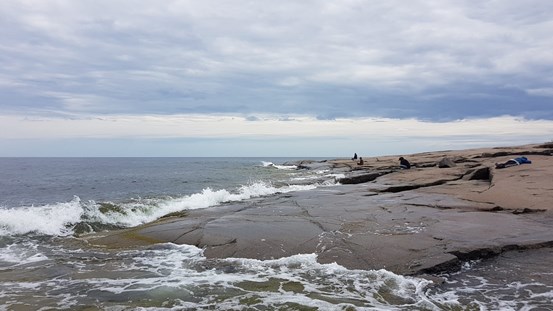 Deep Listening
Deep Listening är en kreativ filosofi och praxis som innefattar ljud och musik, rörelse och drömarbete. Lyssnandet är centralt.
Praxisen är sprunget ur den amerikanske kompositören och musikern Pauline Oliveros livsverk tillsammans med IONE och Heloise Gold. Genom dagliga kombinationer av rörelseövningar, ljudperformance och arbeten med drömmar så dyker gruppen djupare in lyssnandet och kollaborativa processer. Under veckan kommer det finnas utrymme för kollaborativt skapande såväl som individuellt kreativt arbete och skrivande. Workshopen är utformad för alla som vill utforska och utveckla ett skapande i grupp och individuellt med ljud, musik, drömmar och rörelser.
Kursen leds av Jennifer Wilsey (US), Sharon Stewart (NL/US) och Björn Eriksson, alla tre certifierade Deep Listening-instruktörer som har studerat för Pauline Oliveros.
Materialkostnad: 500 kr
Kursen är affilierad med The Center for Deep Listening at Rensellaer.
Kurstid - vecka 26, 27 juni - 01 juli
Under workshopen kommer engelska att användas
Praktisk information kring våra sommarkurser
Deep Listening is a creative philosophy and praxis that includes sound and music, movement and listening to dreams. Listening is central.
This praxis derives from the lifework of the American composer and accordionist Pauline Oliveros, together with IONE and Heloise Gold. Through a daily combination of movement practice, sound performances and dreamwork, the group will dive deeper and deeper into listening and collaborative processes. During the week there will be room for collaborative creating as well as individual journaling and creative works. This workshop is designed for all who wish to explore and develop personal and group creativity with sound, music, dreams and movement.
The workshop will be led by Jennifer Wilsey (US), Sharon Stewart (NL/US) and Björn Eriksson (SWE), all of whom are certified Deep Listening instructors who have studied directly with Pauline Oliveros.
Costs for material, field trips and more: 500 sek

The retreat is affiliated with The Center for Deep Listening at Rensellaer.
http://www.deeplistening.rpi.edu/

Trains do run from Stockholm Airport (Arlanda-C) to Västeraspby station, which is 3 km from Hola Folkhögskola, the school and retreat venue. Check out sj.se/ for train travel.

If you have questions, feel free to contact
Sharon at sharon@deeplisteningcenter.org (English)
or Björn at bjorn.eriksson@hola.se (Swedish & English)

More info on the instructors/facilitators:

JENNIFER WILSEY creates listening spaces. Her work as a percussionist, improviser, composer, and educator invites playful, embodied presence and extra-sensory expansion. Jennifer is the cofounder of several experimental improvising ensembles, including Timeless Pulse (with Pauline Oliveros, Thomas Buckner, George Marsh, and David Wessel), and The Bloom (with W. Allaudin Mathieu and George Marsh). She is a Deep Listening© Certificate holder and teacher in the Deep Listening Online Certification Program, and faculty member in the music departments of Mills College and Sonoma State University.
SHARON STEWART studied piano at the Utrecht School of the Arts, Faculty of Music, and later completed a Masters in Music Pedagogy at the Royal Conservatoire, The Hague. She is an independent researcher for the Professorship Theory in the Arts at ArtEZ University, NL; runs a private piano practice in Arnhem; is engaged as sound designer in various dance, theater and installation projects; and serves as Associate Editor of the Journal of Sonic Studies.
Sharon Stewart was certified in Deep Listening with Pauline Oliveros, IONE and Heloise Gold in 2011 and is currently a core teacher in the international, online Deep Listening Certificate Program hosted by The Center for Deep Listening, RPI.
Sharon Stewart (deeplistening.org)
BJÖRN ERIKSSON is a sound improviser, sound designer, sound engineer, composer and teacher. Been playing and working with sound and music from childhood. Aged four he started to do cluster music and prepared piano works as an act of play and at ten he got a reel-to reel tape recorder as birthday gift which also stimulated and continued the act of playing and listening. Since then he has been on this sound and music path and still continuing exploring sound in performance, electronic music and more. Björn are playing together with Great Learning Orchestra, Norrbotten Improvisers Orchestra and Avatar Orchestra Metaverse and in other constellations and solo. Björn received his Deep Listening Certificate in 2015
Kontaktuppgifter till kursansvariga/
Contact information for course coordinators