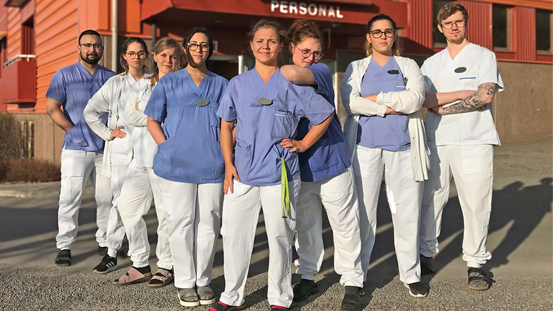 Dental health care in Västernorrland
Folktandvården has approximately 350 employees spread over 14 general dental clinics and all specialties within Specialist dentistry.
Our organization
As an employee within Folktandvården Västernorrland, you make a difference in people's lives every day. You are part of an organization that works actively to improve the population's oral health, both clinically and preventively. In your daily work, you work in teams with competent colleagues.
In Sweden, children's dental care is prioritized and this means that you get to meet plenty of children and young people in your work. But we treat adult patients also on a daily basis.
Our culture
For us, it is important that you enjoy your work! Our keywords are together, trust and knowledge. It implies that we value teamwork highly. We think it is important to have a working cooperation between all employees where teamwork is more important than title and where everyone, based on their professional profession, is helped to create the best care and treatment for our patients. We also work to promote collaboration between the clinics in order to accomplish our joint mission.
We trust our employees and their competence. There are clear frameworks for management and control of the business, but it is ultimately in the meeting between patient and therapist that there must be trust that our employees make the right considerations and make the right decisions. In our leadership, we strive to carry out the task and develop the business in close cooperation with our employees. 
We are a knowledge organization and the business requires constant development and learning for our employees. Here, everyone needs to help out to share knowledge but also being open to new knowledge and development in their own profession. 
This is how it works
Welcome with your notice of interest! Right now we are looking for both general and specialist dentists and dental hygienists.
You can submit your CV here:
For more information, please contact Helena Johansson, HR consultant 
Email address: helena.johansson5@rvn.se
Phone number: +4660-18 11 37 
Additional information for applicants: