Our offer
Your first contact with us
We always start off with a verbal contact to get to know each other and inform you about the process of applying for employment with us. There is a lot to think about when it comes to moving to a new country. You need to make some preparations on you own. However, where possible during the process we will do our very best in helping you making the transition as smooth as possible! Provided that our collaboration works out well and that you have met the language requirements in Swedish during the first eight months and received your Swedish license, we can offer you permanent employment with us! 
Your preparations
As a dentist or dental hygienist with us, you of course will need to know the Swedish language at a satisfactory level. When we have established a contact, conducted an interview and that you are certain that you want to come to Sweden, the first step is that you study up to A2 level in Swedish on your own. You can easily perform it online, through various providers of education. To validate your knowledge, you will be then asked to take a digital test in Swedish. You can apply for financial assistance for your Swedish lessons via EURES.
You also need to submit the application for a Swedish license to the National Board of Health and Welfare in good time and then their decision is sent to us. It is so that we can more easily get an idea of what you need to obtain your Swedish license.
Visit us!
Moving to a new country can feel like a big step. For those candidates who go further in the process, we are happy to invite you to a study visit to our business operations. We want to show you our part of the country and let you get a closer look at our clinics. During two to three days, you will receive basic information about our organization and the work as a dentist/dental hygienist with us. We will describe in more detail what the process looks like to move here and what help you can receive. We offer travel and accommodation during your study visit. 
Relocation
When you move to Sweden for employment with us, you are initially offered a relocation allowance to cover part of the costs associated with the move. The grant amounts to the equivalent of SEK 25,000.  
In most cases, we can offer you to rent a temporary apartment for up to 6 months while you get everything in order and start looking for the accommodation you prefer. In that process, we can, in cooperation with the municipalities, provide professional support in search for suitable housing which meets your preferences.
If you decide move here together with your partner and/or family, we also have the opportunity to offer information and support regarding the possibility of finding employment for your partner and possible school/preschool for your children. You can also get tips on leisure activities and association life which can enrich life outside of work. 
Swedish lessons with us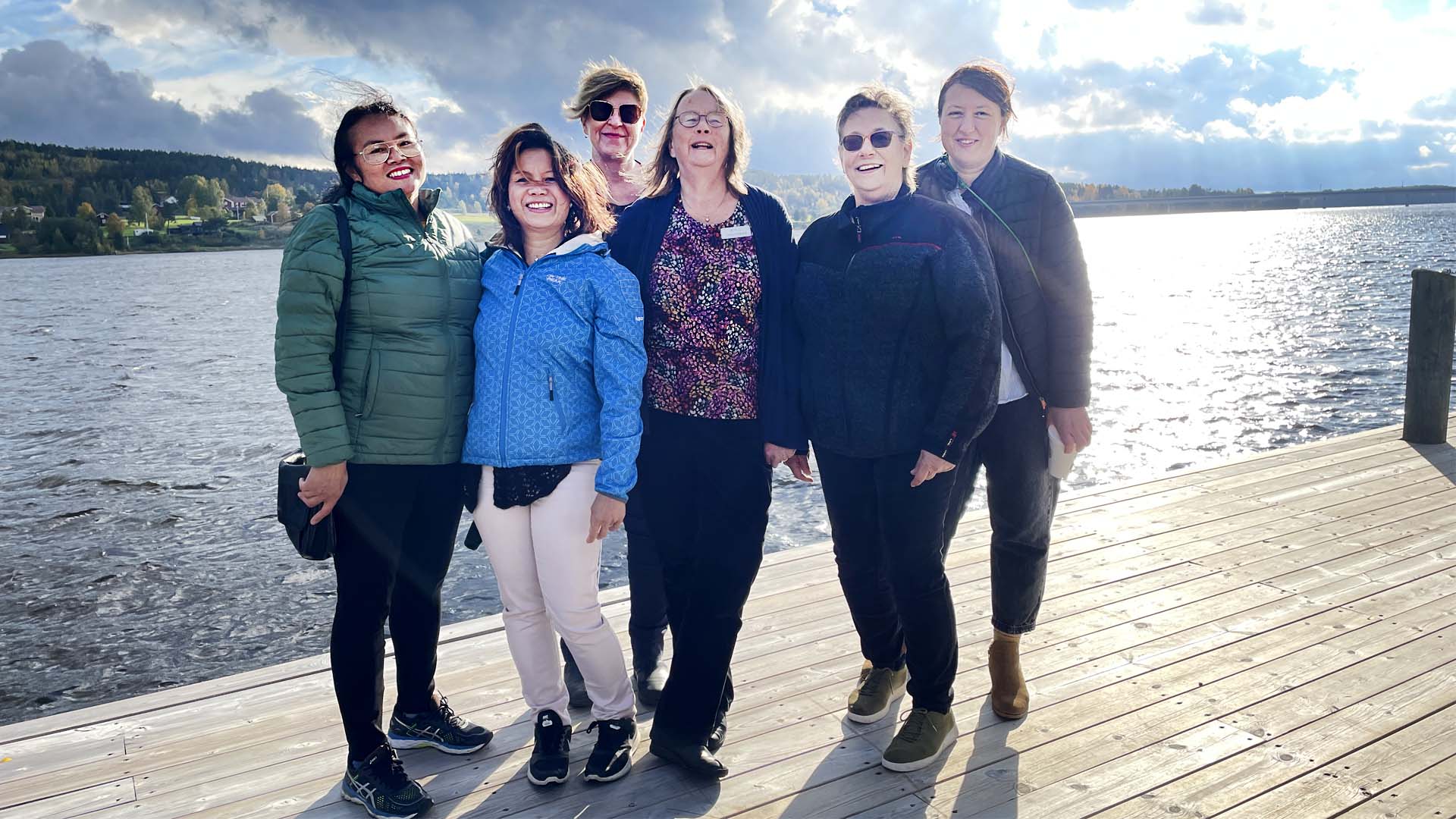 Once on site with us, you are offered a further intensive course in Swedish to achieve C1 level, which is required for a Swedish license as a dentist or dental hygienist. Depending on your previous knowledge, the Swedish lessons can last up to 30 weeks with our language teachers in small study groups for foreign healthcare personnel. Three days per week consist of language studies and the other two days are spent at the dental clinic you will work at. The teaching is of high quality and the structure is easily accessible and flexible. After a joint meeting on the first occasion, much of the remaining training can be carried out digitally if so desired.
Benefits and job culture
We offer you a well-thought-out introductory package where the goal is for you to feel safe and well looked after. You will receive a special supervisor at your clinic who will help you get into the work and the communality at the workplace.  
As a full-time employee with us, you have a schedule corresponding to 40 hours per week. The working hours are day time, Monday to Friday. We want our employees to experience a good balance between work and private life. As evening and weekend work occurs very seldom, you have the opportunity to have plenty of free time outside of work.  
You will receive a competitive monthly salary compared to other Public Dental Care regions in Sweden and the salary is reviewed once a year with the possibility of salary development based on performance. Regardless of whether you are union-affiliated or not, you are covered by collective agreements for your occupational category which gives you rights regarding working hours, holidays and various salary and benefits issues. 
Your benefits include a wellness allowance which can be used at the many available gyms or on other wellness activities that you wish. You who actively participate in the recruitment of new dentists or dental hygienists have the opportunity for a bonus, and after you have been permanently employed for three years with us, you yourself will receive a favorable bonus. 
When you continue to work with us, you get the opportunity to develop skills in the profession and a large part of the learning takes place through daily work in collaboration with other colleagues. Our organization includes both general dental care and all types of specialist dental care. It creates opportunities for development and learning, but also more formal education via specialization in various areas of odontology. With us, there is breadth and development opportunities, while the organization is no bigger than getting to know each other and easily creating valuable contact routes.